Lectures in open public
From 2000 until today (December 2013) he has been invited as speaker in more than 100 open scientific and cultural meetings.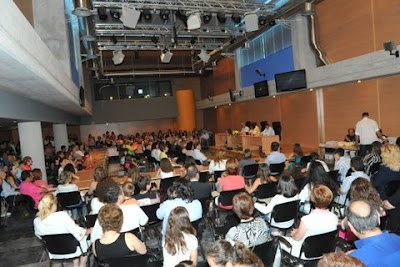 Some of them are the following:
"Black holes: The captivity of the light", Herakleidon Experience in visual arts, Athens, Mai 2007.
"Are we alone in the space?" 2nd Experimental Lyceum of Athens, Athens, November 2007.
"A star dies", Municipality of Kimi, Kimi 2008.
"The evolution of the stars", Cultural Society of Drimonas of Leukada, Leukada, August 2008.
"Were velocities measured higher than the speed light in radio- galaxies?", Mathematics Teacher group of West Attica under  Professor at the  University of Athens Dr. Chronis Strantzalos, December 2009.
"The invisible but existing mathematical Universe" Hellenic Union of Physicists, Hellenic Union of Theologists, Kalamata,  Mai 2010.
"In the shadow of the space time", Home of Knowledge and Science of Chalkida, Cultural Home of Chalkida, Chalkida, September 2010.
"Rieman's Geometry: The Geometry of the Universe", Hellenic Mathematical Society, Istiaia April 2011.
"The Euripus phenomenon", University of Athens, Faculty of Physics, Department of Astrophysics, Astronomy and Mechanics, March 2012.
"From the visible to the invisible Universe" St. Simeon's Sacred Monastery, Kalamos of Attica, June 2012.
"To the limits of the space-time", Hellenic Mathematical Society, Livadia, June 2012.
"The Cosmos that extends to the four ends", Secondary Education Union of Viotia, Thiva, October 2013.

"The mathematical Universe", Experimental Lyceum of Evangelical School of Smyrni, Nea Smyrni, Athens December 2013.
"The real Christmas star", High School of "Aghia Sofia Childrens' Hospital", Athens December 2013.